Work for us
Longs of Leeds may be a family business – but with over 160 employees we are certainly an extended family. We value and take care of our staff, and put the development of our people at the top of our agenda
Our roles
We offer permanent HGV driving positions based at either our Hull or Leeds depots. In addition, we have plenty of opportunities for talented people to join our busy transport office.
Why work with Longs of Leeds?
We are proud of our family culture, ensuring our employees are treated as individuals and not just a number. We consider giving our staff a voice at all levels to be a vital ingredient in our long history. Training is a big part of what we do at Longs of Leeds and we're always keen to aid progression.
Who we are looking for?
At Longs of Leeds we want to invest in the people who can help our business grow for another 100 years. No matter what role we're hiring, we want professionals who are passionate about delivering great customer service.
We welcome new and experienced drivers who are flexible in their approach to work and who have excellent communication skills. Prospective drivers will need to have the relevant LGV licence, Digital Tachograph Card and DCPC.
HGV Class 1 Drivers
Class 1 drivers wanted working out of our Leeds or Hull depot.
Various shifts available, please contact to discuss further.
Ideally you will be experienced, but we will consider newly qualified drivers for these roles.
This is nationwide general haulage work on curtainsiders.
Full time permanent contracts.
Must have:
UK licence, CPC and digi card.
No more than 6 points.
Employment subject to interview and assessment which usually takes place on a Saturday. Contact us to book a place. Flexible starts available.
Sound good? Email us to apply or call Recruitment on 0113 264 0106 to discuss.
The benefits for you as a driver
Work with newly qualified drivers
Offering a mentoring scheme
Employee welfare paramount
WPA health top up scheme offered to all employees
Guaranteed work
Full time, permanent roles, paid weekly
Modern vehicles (Euro 6)
DAF XF super space high spec cab running out of Leeds and Hull
Allowances
We offer night out allowances and daily meal allowances
Paid secure parking
We pay for overnight parking to ensure you have all the facilities you need in a secure environment
Opportunities for progression
Training given including yearly DCPC courses offered
Our driver training programme
Longs of Leeds stands out from other haulage companies by offering comprehensive training programme for employees. We train newly qualified drivers for Cat C and Cat C+E and always look to develop new talent by offering LGV driving apprenticeships. In addition to our in-house courses we also work with local training providers to support all our newly qualified drivers.
What we offer
Comprehensive induction program
Includes meet the team, work environment and practical training on the DAF units.
Support for all new drivers
We have a transport support co-ordinator in place to mentor drivers in terms of WTD guidance and training not only at the start of their employment but throughout their time with Longs of Leeds.
Mentoring scheme for newly qualified drivers
We have a team of dedicated qualified trainers. This practical training covers Longs of Leeds' practices and procedures, along with practical training. This is flexible to individual needs of the driver but on average is three weeks.
Well-equipped for time on the road
All drivers are issued with a company phone, preloaded with useful apps to help find secure parking and keep up-to-date with drivers hours and legally required breaks.
Have a buddy on the road
Our driver trainer, will routinely buddy up with drivers for a day. Ensuring that all goes smoothly when visiting new customers sites and offers guidance and training if wanted or required at any time during your employment.
" It's really rewarding being part of their training programme as it allows you to pass on your knowledge to new starters in the field. The staff are all so welcoming, from the warehouse to the directors. You'll always see a friendly face! "
Mick, Driver Trainer, 4 years' service
"I enjoy working for Longs because of the team spirit, it is like an extended family. The support is always there when the chips are down. All levels of management are approachable and loyalty is rewarded."
Kevin, Warehouse Manager, 11 years' service
"After passing my class 2 HGV test I joined Longs of Leeds as a newly qualified driver. Longs of Leeds eased me into my new role by buddying up with a more experienced driver for the first two weeks. After two years working at Longs I felt I had the confidence and experience to take my Class 1 driving test, and after a one week course at a local driving school, I passed with ease."
Mark, Newly qualified Class 1 Driver
"I joined the company in July 2018 after working for another haulier for over 12 years. Starting in a new place was daunting to say the least, but I need not have worried, as I was made welcome from day one. I love the friendly family feel to the company, and look forward to being part of the future of Longs of Leeds."
Janet, Sales Administration Manager
Our team are reaching milestones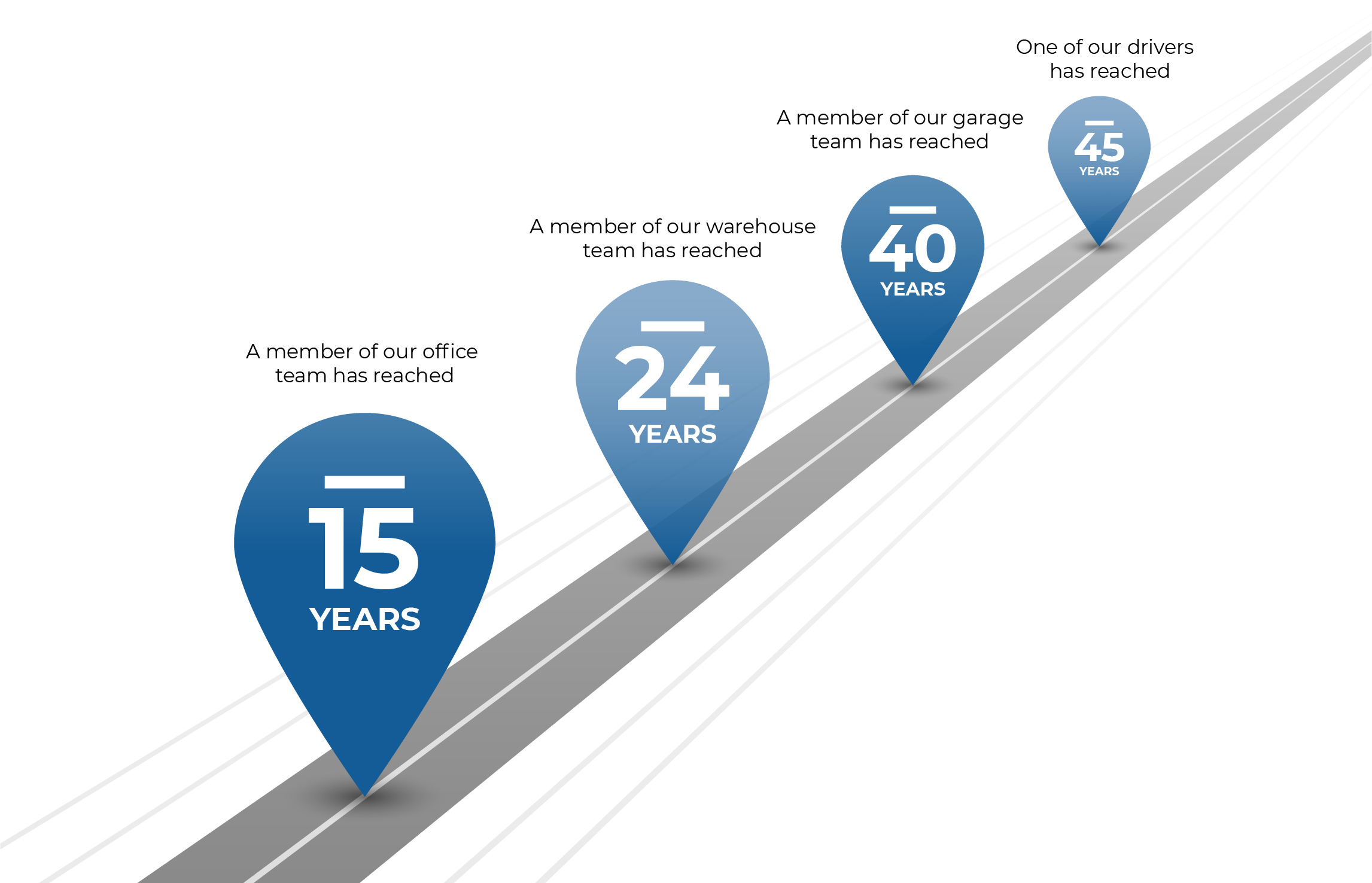 Our staff go the extra mile
Charity work
Longs of Leeds staff members are regularly involved in different charity events, such as the MS Challenge, to raise money to fight Multiple Sclerosis, which Norman Long's wife Margaret suffered from. The company has provided trailers to create stages at St. Gemma's Hospice events, and in recent years staff have taken part in Cancer Research UK's Race for Life.
Team days out
Many of our drivers love to showcase their trucks around the country, and one proud driver was highly commended at TRUCKFEST 2016 in Peterborough. Other recent activities have included a team attempting the Yorkshire Three Peaks in 2018 – although after a panic amongst the team it was decided to do them one at a time. After they completed Pen-Y-Ghent in the blazing heat, that seemed like a wise choice. Maybe for the next climb they'll pack the factor 50.
Community work
Longs of Leeds is proud to be part of the local community in Cross Gates, Leeds and has worked with youth clubs and scouts, as well as supporting local churches and schools with fund raising, sponsorship and work experience opportunities. We've also stored and transported goods being collected for charities in Romania.
Women in the work place
At Longs 16% of employees are women, in roles as diverse as drivers, warehouse staff, traffic operatives as well as business administrators. Almost half of the Longs of Leeds management team are women. At Longs of Leeds we believe our staff should aim high, regardless of gender. We work closely with the Job Centre offering work experience to women – and recently did a talk about women in business. Despite logistics being male dominated, more and more women are joining the haulage industry.