Our History
The story behind a true Leeds family business
How the company began
In 1918 Joe Long returned home to Holbeck in Leeds from the First World War. He'd been wounded, taken prisoner and had to have life-saving surgery which left him with one lung – but that didn't stop him starting a business that would endure for generations.
Joe named his business J Longs and Sons, and delivered coal around Leeds – and in 1933 became only the second company to get a licence from Leeds Weights and Measures.
Joe and his sons Arthur, Norman and Reg moved from Holbeck to Cross Gates just before the Second World War. Arthur was called up to fight – and provided his haulage experience to the RAF, based in India.
After transportation was denationalised after the war, J Longs and Sons reaped the benefits as the country recovered from the war. Joe and his sons won a contract from the government which gave them three lorries and that changed the company forever – although two broke down on the way back to Cross Gates that very day. Longs of Leeds was born.
The company's first major haulage contract was for a wholesale fruit and veg merchant at Leeds market. The business quickly grew, moving to the Dark Arches on Neville Street, and the company continued to grow during the 1960s. It again had to move, this time to the Sandleas Way in the early 1970s, where Longs of Leeds is still located today.
The grandchildren come aboard
In the 1970s Chris, Tony and Stephen became the third generation of Longs at the company. Chris had just completed a five year apprenticeship as a mechanic and Tony and Stephen joined after studying business at Park Lane College. Andrew joined the company in 1984, just after the sad passing of Arthur Long.
The introduction of motorways in Britain was great for business, and helped the number of wagons surge from 12 to 24. More premises were needed, with more land purchased at Sandleas Way through the 1980s and 90s as the site grew to accommodate an ever-successful haulage business. In 1990 Longs of Leeds built its first warehouse, a new part of the business headed up by Tony Long, and Longs of Leeds became a member of Pall-Ex headed up by Stephen Long. This enabled Longs to deliver loads as small as quarter pallets and still guarantee a next day 10am delivery – which became a game changer for our clients.
More family joined the business with Brenda Long, Diane G Long, Diane L Long and Jacqui Long helping to support a big local business. Norman Long retired after 50 years shaping Longs of Leeds, and sadly passed away in 2017.
A Modern Business
April 2000 saw the opening of an additional depot at Hull's Queen Elizabeth Docks – operating through direct link to the Leeds depot with all drivers and vehicles fully integrated into the working practices of the company.
Due to growing number of office staff, Longs of Leeds expanded Sandleas Way again, to build two large open plan office spaces and 10 smaller offices.
Longs of Leeds remains family controlled and is now in its fourth generation with Jonathan Long managing the traffic office. Today we are even more committed to providing quality road haulage, storage and distribution service to all parts of the UK.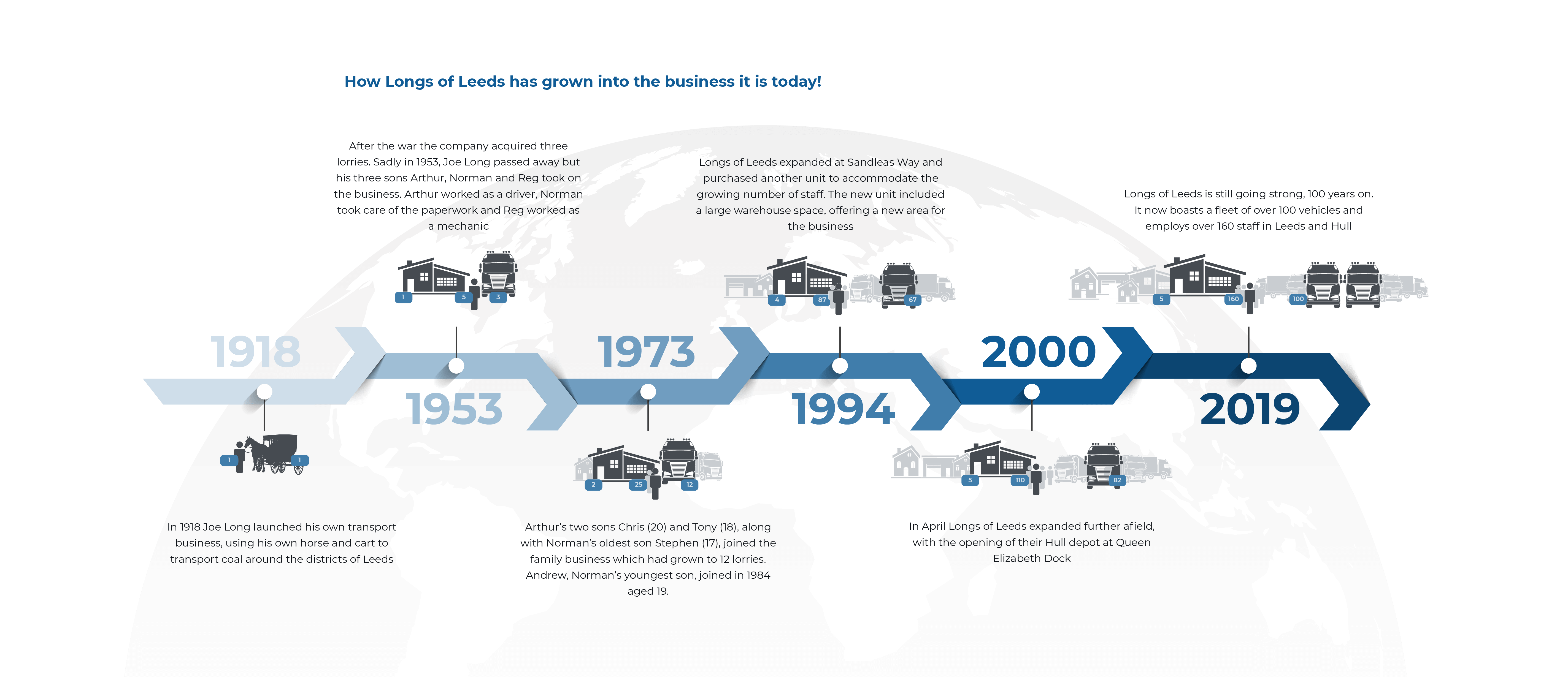 Awards and Accreditations
In 2016 we became British Retail Consortium (BRC) accredited, which means our storage and distribution AA graded – the highest standard possible for food and food-related products.
We have also been audited and meet the ISO 9001:2015 Quality Management Standards so our services and products meet customer expectations.
Longs of Leeds is also very proud to receive the Silver award by signing the Armed Forces Covenant Employer Recognition Scheme. We work closely with the armed forces, to employ ex-military personnel, and work with them as they transition out of the military. Longs of Leeds is also pleased to employ several reservists who receive our support.
Need help with your haulage?